Overview Brief: Passages Project
Passages project addresses the root of chronic challenges in sexual and reproductive health such as gender-based violence, child marriage, and unintended pregnancy by transforming social norms. This new USAID-funded project (2015-2020) is fostering normative environments that enable young people to use modern family planning (FP) and achieve healthy timing of first and subsequent pregnancies through scalable programs. Passages will also build evidence-based programs and services to reach younger adolescents transitioning to puberty to lay the groundwork for their life-long health and well-being.
Read more about Passages differs from other AYSRH projects, and available technical assistance and research opportunities.
Resource Snapshot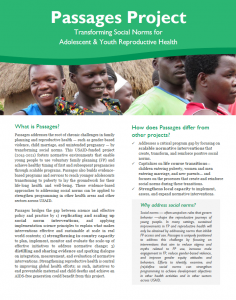 Publisher IRH
Year 2015