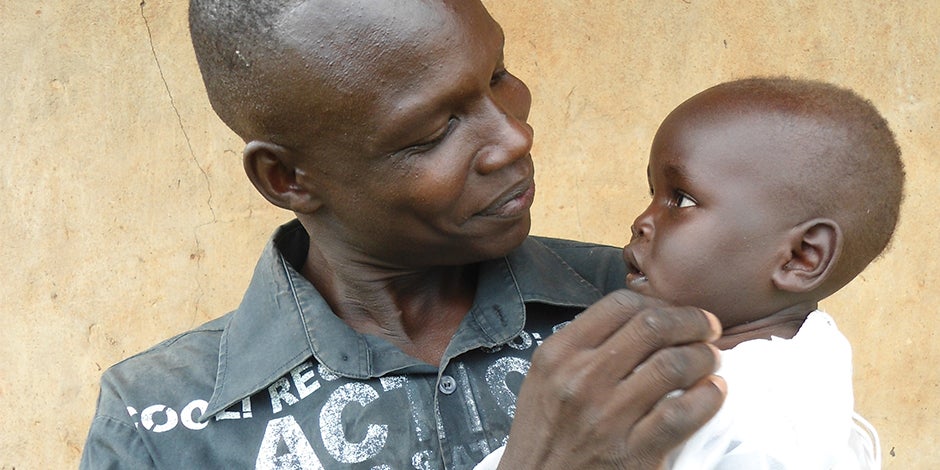 In addition to numerous physical and mental health effects, early childhood experiences of violence are linked to experiences of violence in adulthood.
This is true for both boys and girls, where boys who witness or experience domestic violence are more likely to perpetuate relationship violence, and girls are more likely to be victims of gender-based violence in adulthood. Evidence shows that programs that involve men in violence prevention initiatives are more effective than programs that target women and girls exclusively, and, because many of the risk factors for future perpetration and experience of violence occur in the family unit, involving fathers can have significant positive outcomes. The Responsible Engaged and Loving (REAL) Fathers Initiative aims to build positive partnerships and parenting practices among young fathers to reduce the incidence of intimate partner violence and physical punishment of children.
Piloted and scaled in Uganda by Save the Children and IRH with USAID support, Responsible, Engaged, and Loving (REAL) Fathers is an evidence-based, community mentoring program that capitalizes on a key period of transition when young men become fathers. This is a period when fathers are experimenting with new ideas, attitudes and behaviors. The mentoring programming exposes young fathers to new ideas, skills, and norms to build gender equitable relationships, prevent violence against children and intimate partners, and increase voluntary use of family planning. Working with fathers (16-25 years old) who are parenting a child one to three years old, the program seeks to prevent household violence while developing fathers' skills in communication and positive parenting.
REAL engages young fathers and their wives in a 7-month program that includes one-on-one, couple and group mentoring, a community poster campaign and a community celebration. The mentoring program offers fathers the opportunity to share experiences with other fathers and their partner, learn and practice new skills, and seek advice and support. The poster campaign demonstrates community support for healthy, nonviolent relationships. The project concludes with a community celebration where fathers give testimony to share their experiences and changed behaviors from the program and to commit to sustained change.
Download the REAL Fathers Implementation Guidelines.
[Photo Credit:  Save the Children/Dickens Ojamuge]
REAL Fathers Pilot | Uganda
REAL Fathers Scale-Up | Uganda